Today djskeez shined light on Light Cult Crypto Club (LCCC) members, Ron English's NFT project.
To celebrate the 1 year anniversary of LCCC Ron made 25 of this beautiful piece, for 25 lucky LCCC members. In the background are the Kevin Durant, KD 14 shoes Ron designed :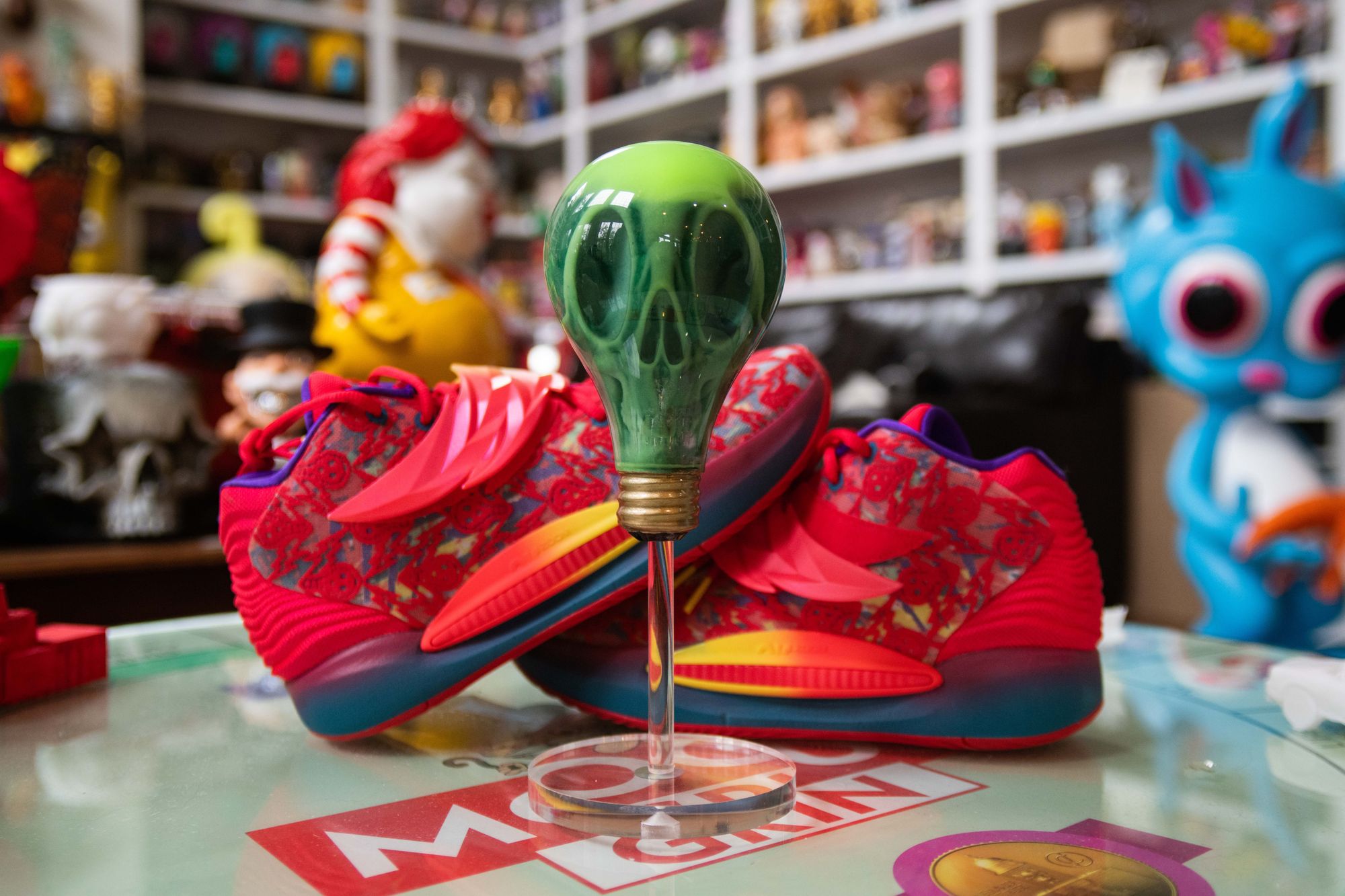 Here's the first version of this piece, which Ron made 50 of: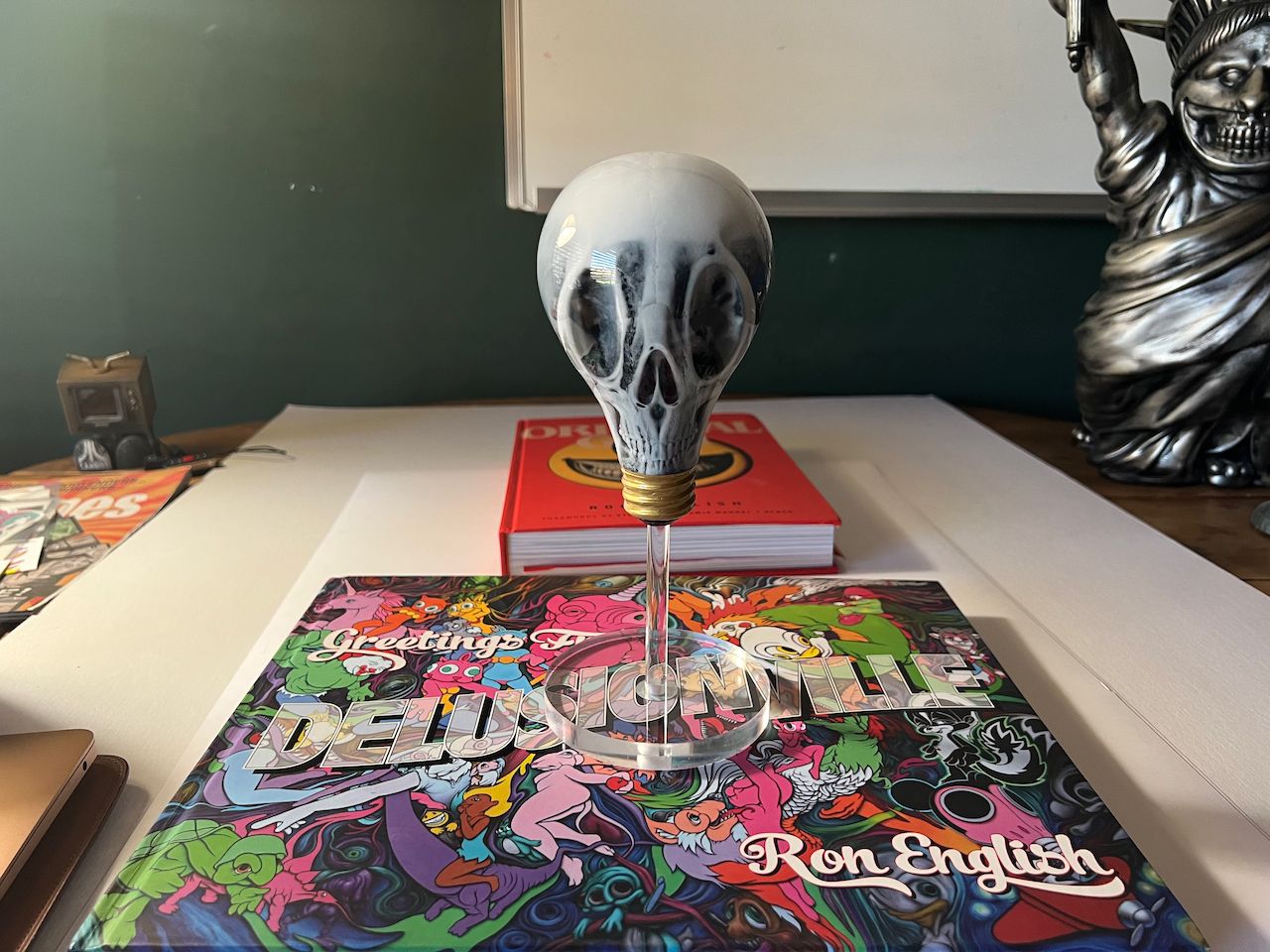 It's bitchin'. It glows in the dark. This piece originally sold for $350, last Spring. I've only seen 1 for sale since, for $1250.00.
Before I go on, full disclosure. I'm a Ron English collector. I absolutely adore Ron and his family, his work. Here's a picture of Ron and his wife Tarssa at the Mesa AZ Delusionville show, signing some pieces I bought: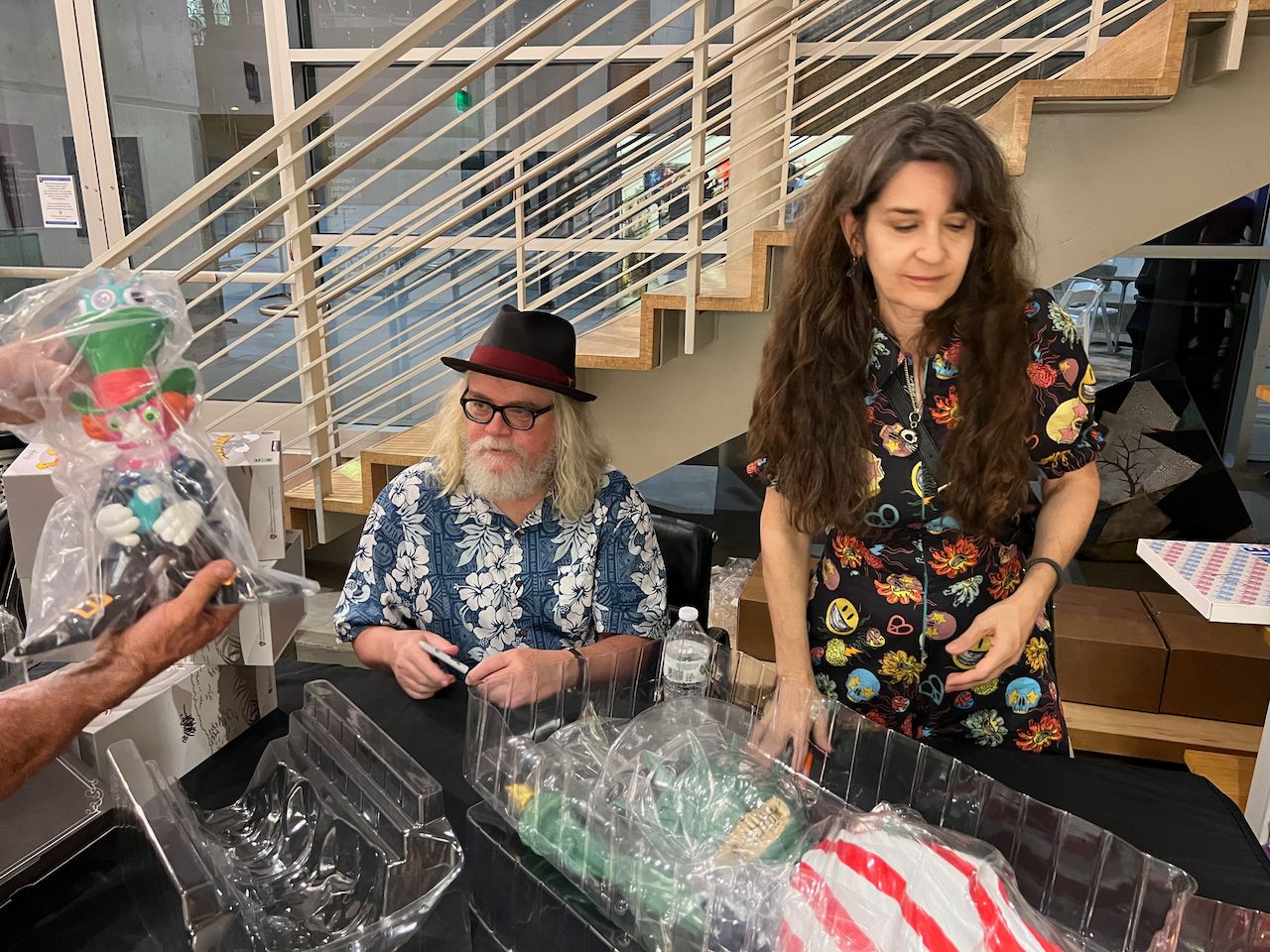 For those of you who aren't familiar with the value of art toys, here's my friend Paul Holbrook, co-founder Mindstyle, showing 4 toys he recently bought for his collection for a total of $48,000.00. Note that Paul emphasizes "investments":
Back to today's exciting announcement. The piece that Ron made for LCCC members will be highly valuable - only 25 will ever exist. My estimate is the immediate value will be $2500 retail. Then only up from there.
The value that Ron has shined on LCCC members is remarkable. I've been in a lot of NFT projects. I haven't seen anything close to what Ron has done.
If you're not familiar with Ron's body of work, they call him the "Godfather of Street Art". In the 1 1/2 years since I've known him, I think that title is trite. IMO Ron English will either be the most, or one of the most important artists of our time. Here's some pics of his paintings along with prices from the Mesa show: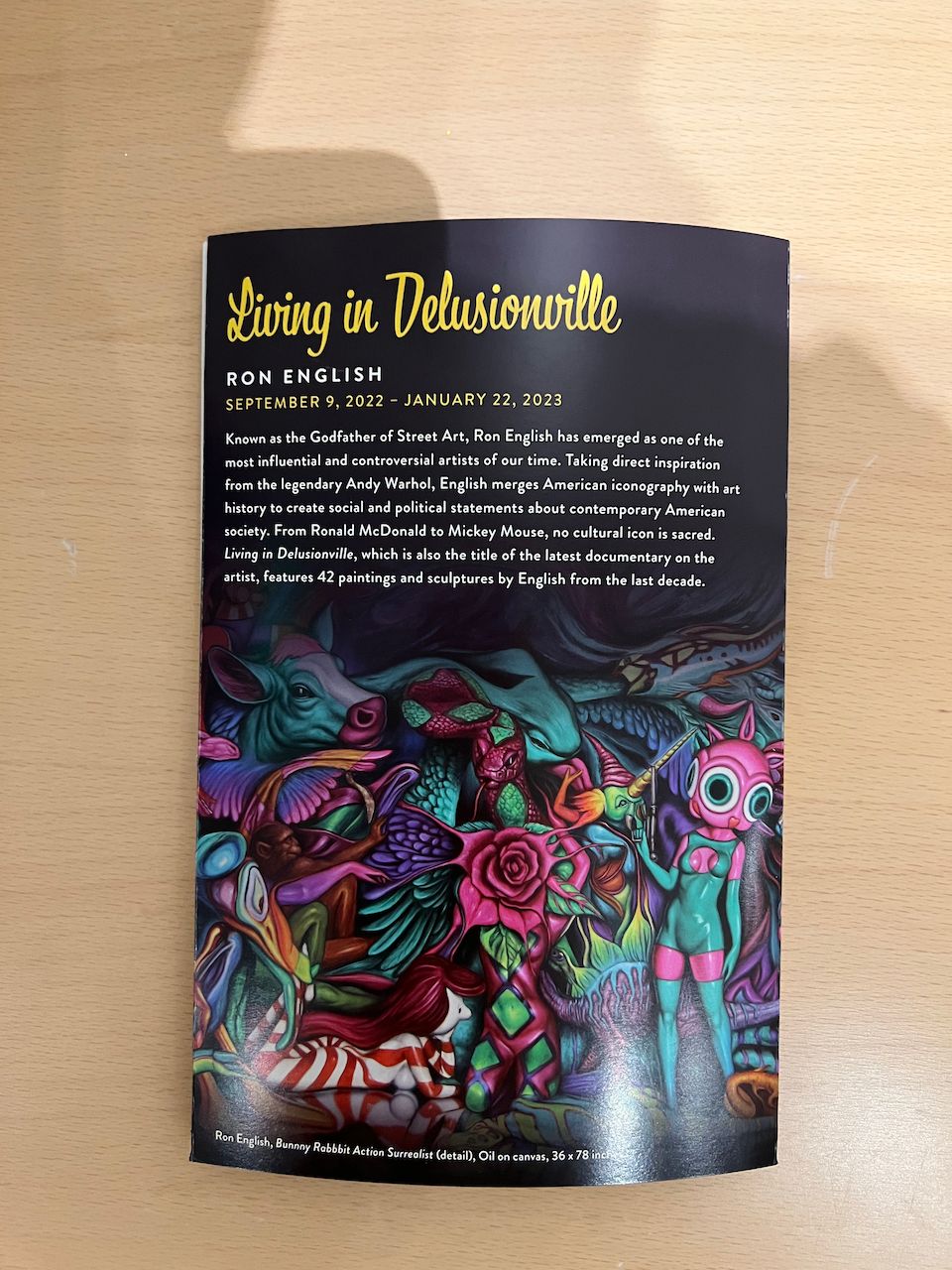 Ron's work is not just brilliant, it's prescient. What turns me on most about him is who he is. He's a kind and generous person. He loves his fans. I've seen him spend just as much time with someone who bought a $25.00 cap, as someone whose investment in his work is in the 6 figures. Every Ron fan is equally important. In my experience it's usually the opposite - an artist of Ron's stature is not approachable and not available to the everyman.
Here's a picture of Ron at the Meeting Of The Light last May, which Ron put on for LCCC members. You can just feel his warmth. I watched him teach a young girl he'd never met how to spray paint. Years from now she gets to say, "Ron English once helped me spray paint".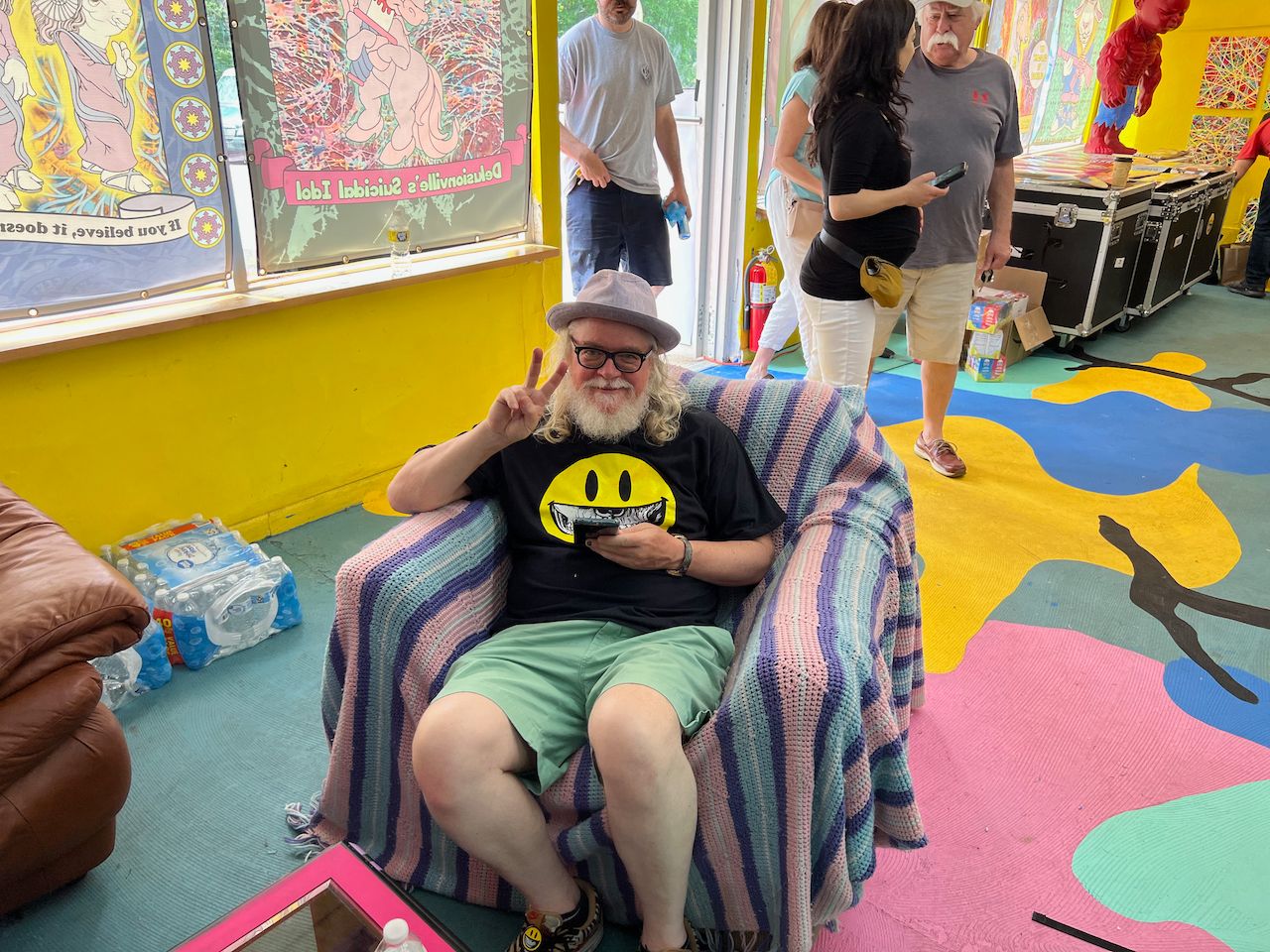 Ron has taken care of his collectors like no other I've seen. Since joining I've won  1/1 hand drawn, signed sketches of some of my NFTs. I won a 1/1 handmade and handpainted toys. In LCCC we burn common NFTs for ltd edition, signed and framed prints. I bought Ron's book Delusionville. It came with a personalized, signed sketch. Today Ron laid more light on his collectors. I'm privy to inside information. There's much more value on the way for LCCC collectors.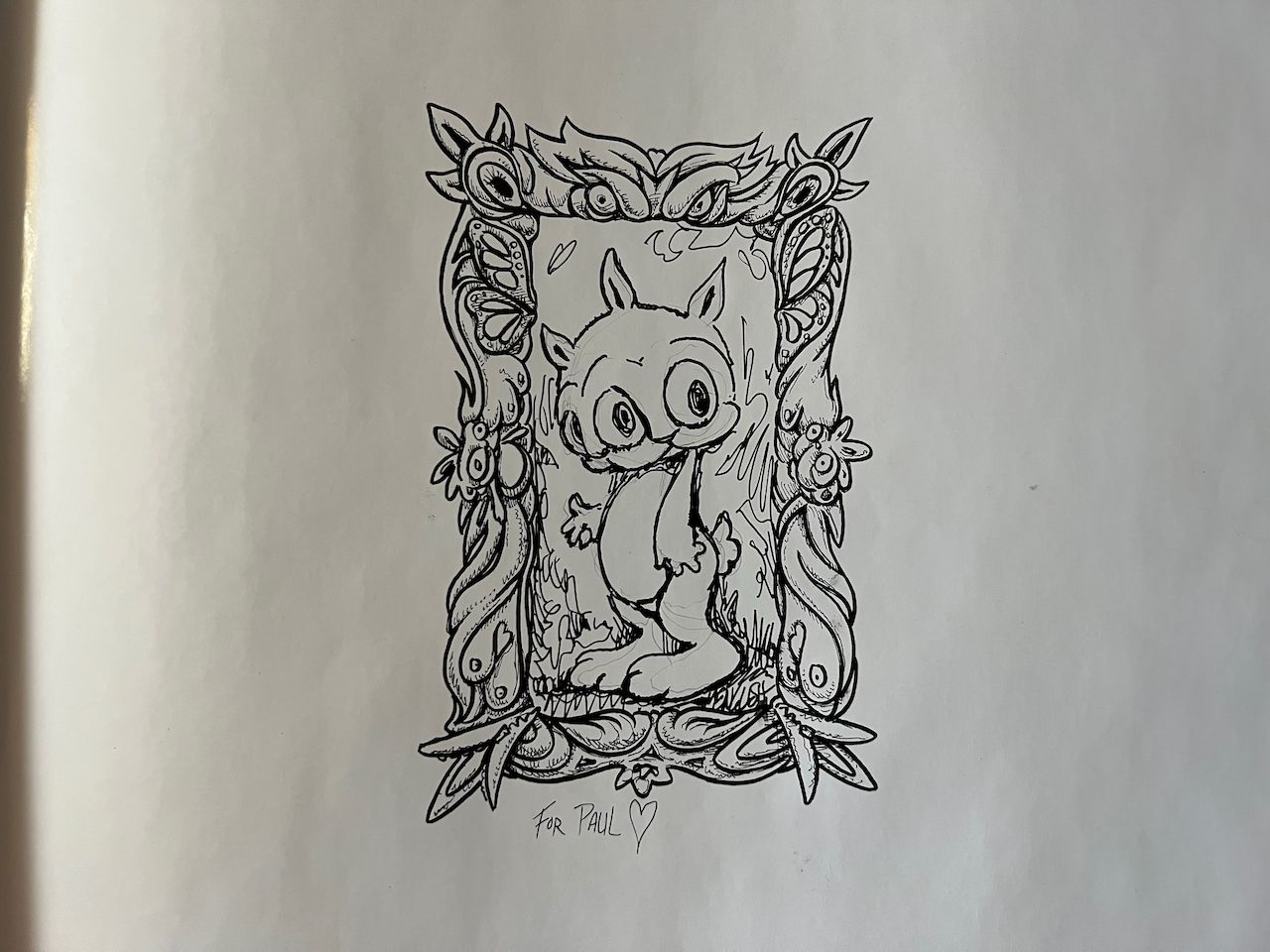 Ron also makes music - he produces The Rabbbits. He writes the lyrics and arranges the music. Musicians in the Rabbbits include Jason Rockman, who's well known in the music business. Other players in The Rabbbits are connected to The Rolling Stones. Listen to the Rabbbits here:
The Rabbbits are going to be a rock opera. Knowing Ron, I bet he'll do a Broadway musical.
There's more...
"It's gotta be the shoes"! Ron designed a pair of shoes for Kevin Durant: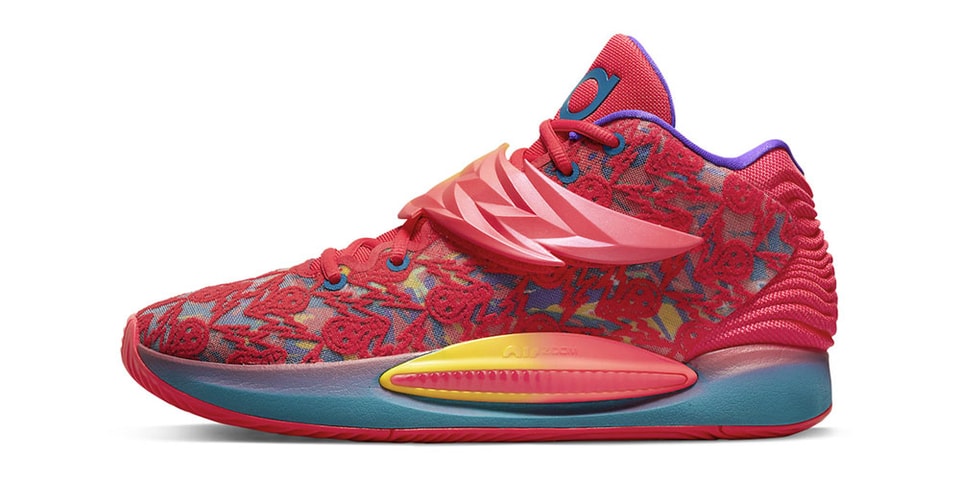 If you're not collecting Ron's work, I hope you'll fall down the Rabbbit hole. You could start by watching The Life & Crimes Of Ron English on Amazon:
Learn about Delusionville, how Ron is using his art to show us what's happening in our world. Suffice to say, Ron isn't a Trumper.
Gracias. I'm grateful you read my Ron fanboy piece. I'll close with this. As I mentioned, most important to me is Ron. I wouldn't care about Ron if he wasn't who he is. Ron and his family are good people. They're people I want to be around. It was pure serendipity, that everything he does syncs with me.
If there's anything I can help with, ping me.
tty next time,