Hey Dad,
Last night the Nuggets won the NBA Championship! No, I'm not kidding. They did it! They beat the Miami Heat to win a ring!
Remember when we used to go watch the Rockets in the old Auditorium Arena? All the great players we saw? Julius Irving, George Gervin, Dan Isssel, George McGinnis, Spencer Haywood? Remember the half-time shows? How happy I was to get a red white & blue ball?
Remember taking me to see the Harlem Globetrotters each year? I can still see Curly Neal drop kicking the ball into the basket from half court. Meadowlark Lemon being the pivot for the weave.
Remember sitting so close to Doug Moe we could hear all his cuss words? Remember Mahmoud? How great a shooter he was? Mahmoud is a a great man, I have his jersey and wear it proud. Remember that year we almost set the record for losses?
You couldn't get to the games in your later years, but I never stopped going. Or watching them on TV. I haven't missed a TV game since I can remember.
Now I take Justin to the games. We went to game 1 of the Finals! Renee loves the Nugs too.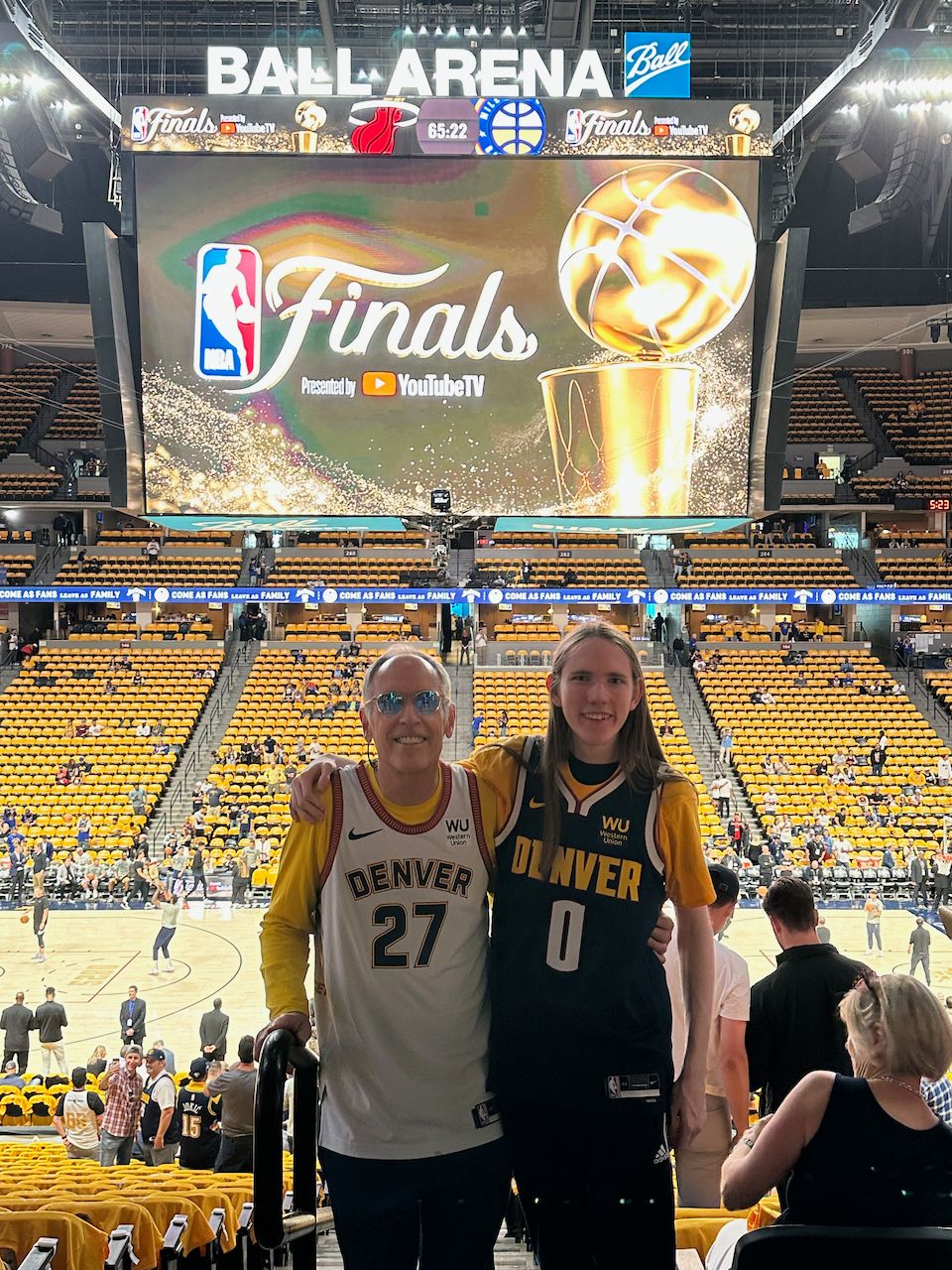 The Nugs are really good, Dad. They've got great young players. All our stars are under contract for the next couple years.
We've got Nikola Jokic, aka the Joker. He's breaking all kinds of records. He led this postseason in points, rebounds, and assists. No one has ever done that. He's already on the short list of the best to ever play. If he keeps going the way he is he'll be the best big man ever.
We've also got Jamal Murray. What a story Jamal is. He came back from a devastating knee injury 2 years ago. He leads the team. Without Jamal, we don't win a ring this year.
We have a great coach in Michael Malone. Get this. Malone likes the Grateful Dead! He's a cool guy and a good person. I'm pretty sure he's a good Democrat.
Joker and Jamal are draft picks. We've got some other guys we drafted who're going to be great Nuggets too. So we've got great young players. We're the favorites to win it again next year.
But it's even better. The Nuggets players are all good people, they play the game the right way. You'd love watching them.
Dad each time I watch the Nugs I think of you. Thanks for taking me to the games, Dad. We love you, we miss you.