A while back I minted 4, Banksy Love Is In The Air (LITA) fractional NFTs from Particle Collection.
Their NFTs originally minted on the Avalanche chain. Minting wasn't easy, definitely not for the faint-hearted.
Immediately after minting I joined the Particle discord. But then I stopped doing anything else but checking their notifications. I think, because the NFTs were hard to interact with - I couldn't see them on the Ethereum network.
Then the other day wen checking notifications I read that they did the coding to transfer (bridge) the Particle Collection NFTs over to the Ethereum network. This caught my eye. Because now, I'd be able to easily see my NFTs.
Today I bridged my NFTs. It was simple and fast. In fact it was the best bridge I've used so far. And, I got 4 additional Banksy fractional NFTs as a reward. Impressive. Hats off to the team.
I don't pay much attention to a project's mouth. What I pay attention to, is their feet. All this time Particle has been working hard to learn about their customers. They have weekly calls that anyone can join. They put out surveys, asking for customer feedback. They take care of their customers. All this and the coding that Particle did on their bridge tells me they're a solid team. A solid team is what's most important for a good business.  
I've moved Particle out of my folder I don't pay much attention to and into the folder I'm actively interested in.

Based on what I've seen so far, I'd recommend you do the same.
One more thing. Ethereum still doesn't appear in dictionary apps. It's early.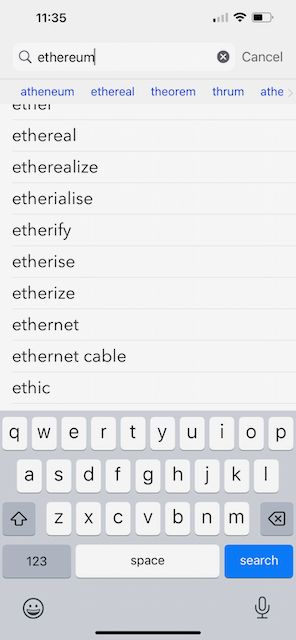 tty next time,