Howdy,
Last December I got an email from Ledger about Stax. The image in the email was the hook - a hardware wallet with a visual interface. I immediately clicked to have a look.
Came to find out Stax was designed by co-creator of the iPhone, Tony Fadell. Mr. Fadell also designed Nest.
Clearly Stax was a breakthrough and must-have. I preordered one.
The preorder process was minting an NFT through Ledger Market in combination with a Ledger Market Genesis Pass, which I had. Ledger capped the presale NFTs at 4780.
The presale NFT included unique benefits in addition to being one of the first 4780 Stax owners. I get a free Magnet Shell and I get to mint free random art as wallpaper for my Stax. Poking around on Ledger's site it looks as if they'll be more unique benefits.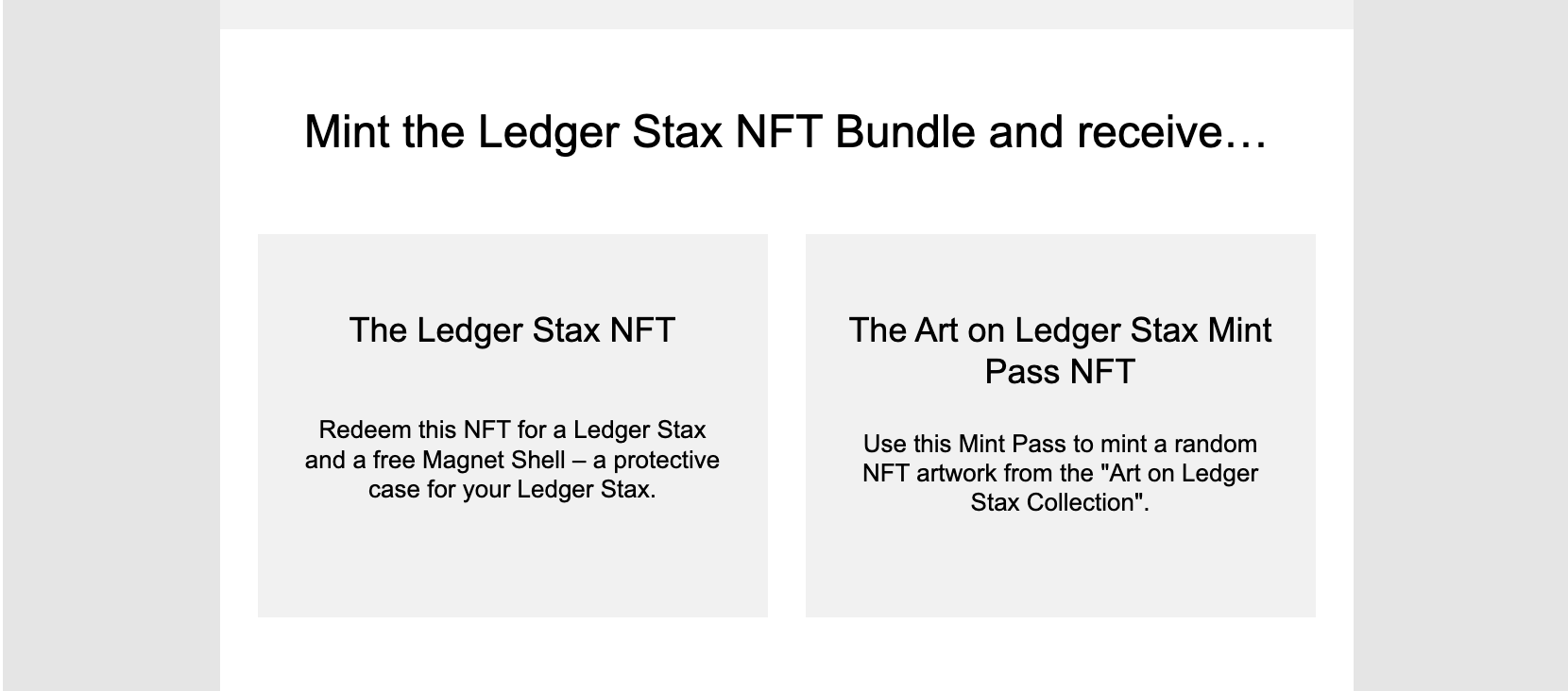 As I've said before, if NFTs are going to cross the chasm into the mainstream market they'll have to be uses other than "price go up". I think using NFTs in a presale is a great application that introduces a wider audience to the benefits of NFT tech.
Because by tying the release of a product to a presale NFT, entrepreneurs are creating real incentives for their customers other than getting their product first or a little early. Customers could get unique, ongoing benefits only available to the presale list. Limiting the presale NFT creates an immediate call-to-action.
Stax will start shipping to NFT minters in May. They're sold out through the summer. Looks like the soonest anyone who didn't mint a presale NFT will get one is Fall 023.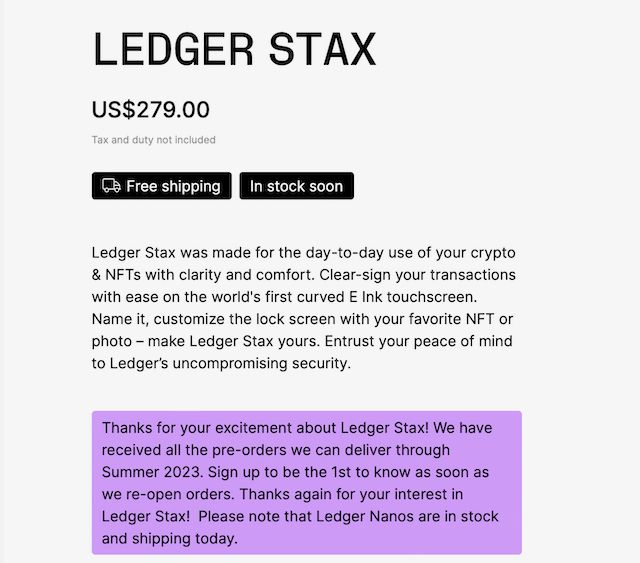 I think there's going to be serious FOMO once crypto Twitter sees Stax in tweets or whatever. Hopefully that gets people thinking about presale NFTs.
If you can't wait for your Stax you can buy a presale NFT on secondary. You redeem the NFT for your Stax, then the NFT is destroyed. So if there's a Stax for sale that means it hasn't been redeemed for the device yet. Also clever and creative.
More uses of NFTs like this, please.
tty next time,